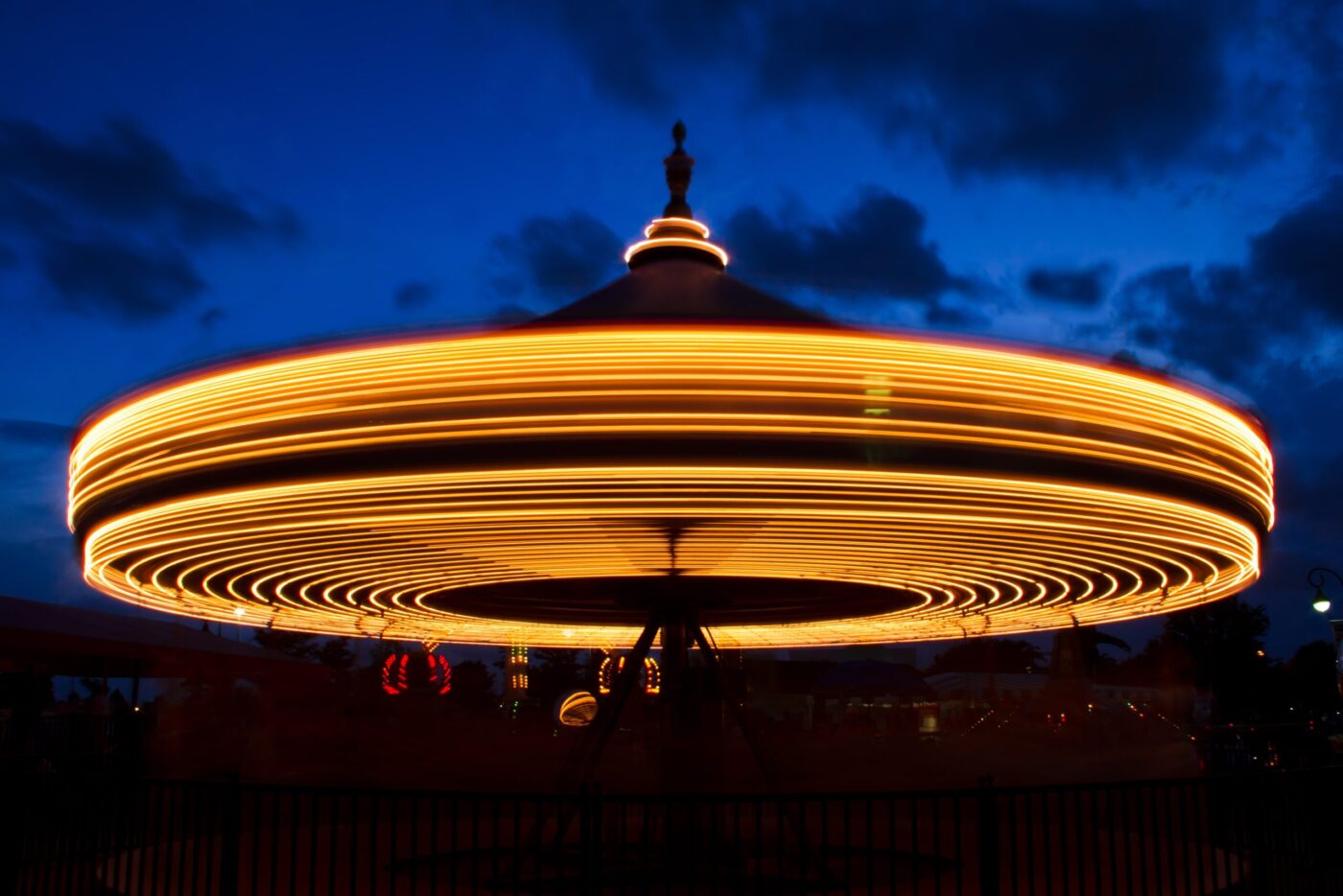 So, what exactly is the difference between a time-lapse and a hyperlapse?
Put as simply as possible, time-lapse photography usually involves a static shot, or one in which the camera body itself does not move.
Now, this isn't completely accurate, as many "traditional" time-lapse videos still involve some sort of movement, often in the form of a subtle tilt or pan.
By contrast, however, a hyper lapse video tends to make heavy use of motion, with the camera physically being moved from point to point.
To illustrate this point, let's take a quick look at a regular moving time-lapse video like this one here:
Now, watch this hyperlapse video and compare the two:
Notice how in the second video, the camera seems to be in smooth motion for many of the shots, and the action appears to be sped up considerably?
This creates the feeling that you are almost "warping" through a scene in hyperspeed, giving the effect its name.
Now that you understand the basic differences between the two, it's time to get down to business.
Making Your Own Hyperlapse Videos
Making hyperlapse videos is actually quite a bit easier than it may at first appear.
Like regular time-lapse photography, all you are really doing is capturing a sequence of images and editing them together in rapid succession to create the visual effect.
If you have a few basic pieces of photography gear, an open mind, and a dash of patience, then don't worry; you've got this.
So, what exactly do you need to make a hyperlapse video?
Well, now it's easier than ever thanks to the 'Hyperlapse' mode built into the camera app on the latest versions of Android.
Simply open the app, select 'Hyperlapse' mode and begin shooting.
All the hard work will be done automatically by the app itself.
Once rendered, your footage will be turned into glorious hyperlapse video!
Standard Camera
To take your haperlapse videos to the next level and unlock all of the benefits that come with controlling the whole process, you may want to create your own videos using a standard camera.
The rest of this guide will be devoted to making that happen.
Let's briefly review what you need to get started.
Essential Gear Checklist
Camera: This can be a DSLR, mirrorless, point and shoot, or even a cell phone. Almost any camera will do!
Lens: If using an interchangeable lens system, you'll need something that is ideally no wider than 24mm on a full frame camera, but also not so zoomed that you can't see the full scene you have in your mind
Your Arms and Legs: You'll need these to hold the camera steady and move around! We'd call that essential.
An Open Mind: This is as much an art form as it is a technical application of skills. Go into it ready to make mistakes and learn from them.
Once you have all of the above, you're ready to go!
Next up, let's define the two main types of hyperlapse technique in use today, and how and when you should use them.
Fixed Point vs Pan Hyperlapse
Though hyperlapse photography can take on nearly unlimited forms, there are two primary "style" categories that most videos fall under. These are fixed point and pan hyperlapes.
Fixed point videos always involve some sort of fixed focal point or subject that never leaves the frame. As an example, look at the shot starting at 0:47 in the hyperlapse example video above. The famous rounded customer service booth is the point the camera is "fixed" on in this scene, so all of the motion literally revolves around it.
By comparison, a pan hyperlapse doesn't necessarily have a fixed focal point, and often involves a sweeping shot of a large scene. This is much less common than the fixed point technique, which is why we'll be focused on that one in this guide, but it's at least important to know that both exist.
Setting Up The Shot
Now that we have a good understanding of the common techniques used in hyperlapse photography, we're ready to dig into the real reason you're reading this; how to capture and make one your very own video!
The first thing that you'll need to do is map out and plan your shot as thoroughly as you possibly can.
The more thought you put into what you want your video to look like, the better it will come out once you execute, trust us on this one.
With this in mind, let's take this one step at a time and go through the process of setting up your hyperlapse shot.
Choosing a Subject
Your central subject is arguably the most important component in your entire video.
This is the person, place or thing that you want your audience to focus in on, so the idea here is to make it as interesting as possible.
See a particularly interesting building, or perhaps an awesome mountaintop?
Make this the centre piece of your video to give your viewers an experience they can't find anywhere else.
In some cases, your subject can be more abstract, such as a crowded city street.
If you wanted to "warp" down the street, you could simply walk forward in a straight line while snapping photos, and the crowd and surrounding buildings will all be part of your "subject".
You can see how the rules are very bendable, and when you have enough experience under your belt, breaking them outright is where the real fun begins.
Basic Camera Settings
So, if you've chosen a subject to base your shots around, that's great!
Now, how should you dial in your settings to ensure that you get the best shots you can? In general, you want to adjust your settings like you usually would when taking a single, still exposure.
The real trick here is ensuring that each image looks relatively the same as the last in terms of exposure, white balance and framing.
You can adjust things in minor increments as you go along to ensure an even exposure, which you likely will need to do given that you are physically moving the camera from place to place.
Just remember that you'll need to put each of these frames back-to-back to create the final video, so try not to do anything jarring.
Mapping Out Your Route
This is one of the most important steps in properly executing your sequence of images, and it's also the point where most newbies get stuck.
It is extremely important that each and every frame be taken from not only the same height, but the same position relative to the subject as well. 
For instance, if you are walking down a street, you need to keep the camera pointed dead ahead, not letting it drift to one side or the other.
Pro Tip: Try looking for tiles or other patterns on the ground to follow. These can make for excellent pacing and positioning guides, helping you to stay on course as you move through your scene.
You may find it helpful to do a test run or two of your "track" to get comfortable with the motion.
It can be a bit tricky staying so steady and consistent when moving, so don't fret if it doesn't come naturally at first.
Once you feel more confident with the task at hand, you're ready to rock.
Grabbing Your Photos
It's time to start shooting.
Keep your framing in mind as you guide yourself through your images one step at a time. It is crucial to the finished product that each step you take and each shutter you capture are as consistently spaced as humanly possible.
A good rule of thumb to follow here is that the further you are away from your subject, the faster you can move in between shots. 
If you are only 5-25 feet away, however, you need to be capturing more images consistently as you move to really "sell" and represent the motion as it happens.
Take it as slowly as you need to, this is a marathon, not a sprint. If you didn't have any shoulder muscles before now, get ready to build some!
Once you've completed your sequence of shots, relax and give yourself a pat on the back.
Review your images while you rest for a bit, making sure that each one looks level and even.
If something is glaringly off, don't sweat it. You can either live with the imperfection or redo all the shots entirely.
Either way, they'll be plenty of opportunities to improve your form as you go, so remember to not judge yourself too harshly (this goes for everything you do in life).
Next Up: Editing Your Footage Together
In our next guide, we'll take an in-depth look at how to process and edit your hyperlapse videos and post production techniques.
For now, however, if you're looking to get started, here are the basic steps to follow:
Collect and organize your photo sequence within a single folder on your hard drive.
Import all of the photos to Adobe Lightroom or your preferred editing software.
Feel free to make basic corrections to the images if you'd like, but don't do anything crazy, and keep them consistent.
Once done, import the entire photo folder to After Effects or Premiere Pro.
If done right, both programs should automatically lay them out on the timeline in the proper order. Create a composition by highlighting and right-clicking them all.
Apply the effect "Warp Stabilizer" to the newly created clip. Set smoothness to around 10% to start, but feel free to experiment.
That's basically it! Again, we'll get much more in-depth soon, but for now, this should get you up and running.
For some more information on the subject of Hyperlapse, check out Wikipedia's very informative article.