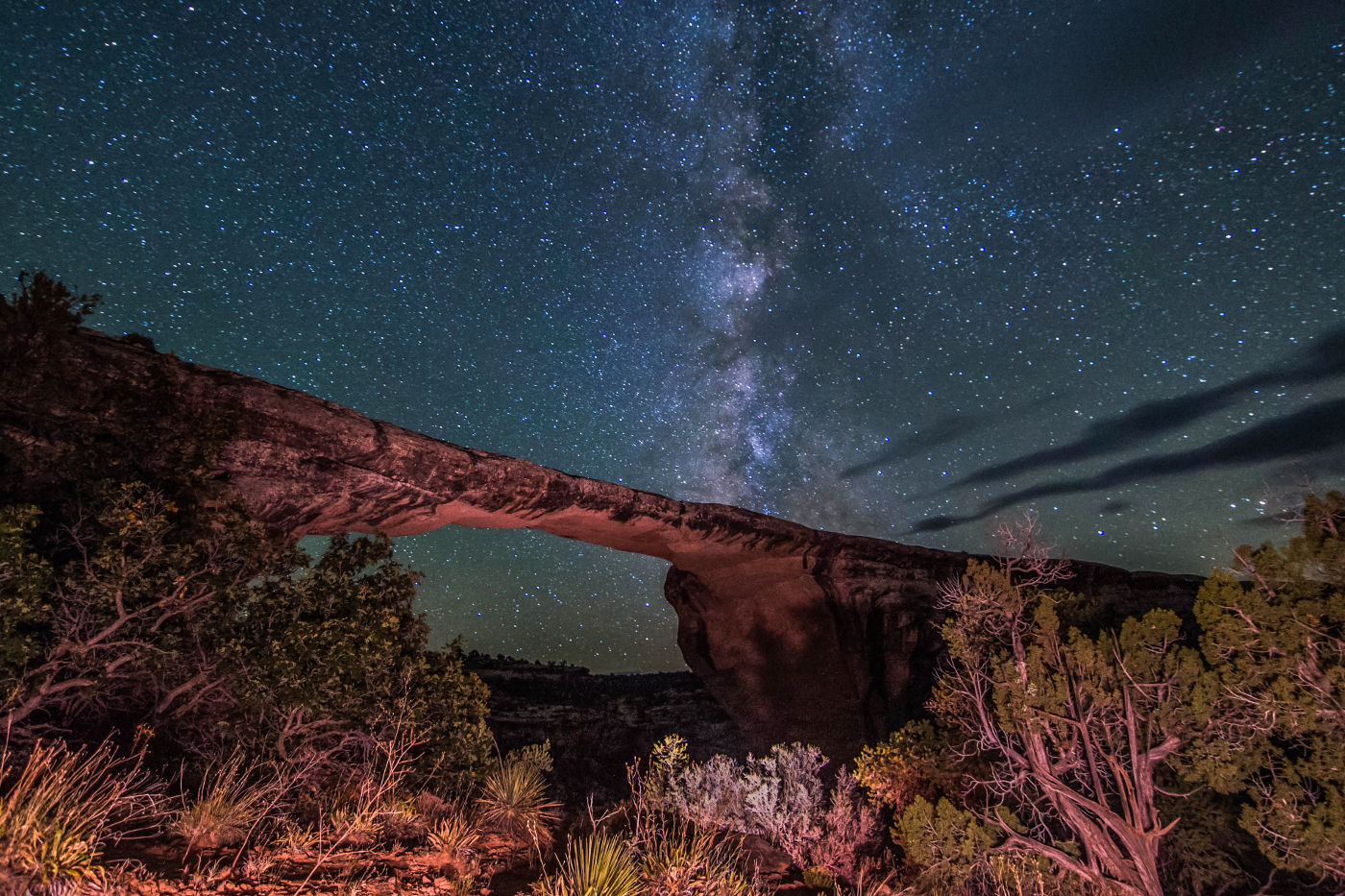 If you have taken photos of the stars before, you will have seen for yourself how magical the night sky can be. On a new moon event, when the sky is at it's darkest, the sky can be teaming with bright stars. However, if you're near any sort of civilisation, one of the biggest challenges of astrophotography is light pollution.
There's not much you can do about light pollution, other than go to an area free from sources of light pollution, such as street lighting and residential areas. This means finding a dark sky location.
This guide to the top 10 astrophotography locations in the USA covers the best stargazing locations for night sky photography.
This is our list of USA locations. Check out our UK guide for a list of top astrophotography locations in the UK
Darkness is essential.
In order for the night sky to truly showcase the beauty it possesses, darkness is essential. In addition, because the stars move relative to the photographer's perspective, longer exposures result in more relative movement; resulting in trails or simply inadequate sensor exposure to draw the celestial body from the ambient light. Star trails may be an effect you desire, but if you do not want barely visible stars on a slightly darker background – you want those stars to pop – darkness is essential.
Below are the official top ten astrophotography locations In the United States (in no particular order).
Headlands, Michigan
One of the early designated Dark Sky Parks, Headlands includes old growth forest and rests along 2 miles of Lake Michigan Shoreline adjacent to the Straits of Mackinac. The skies here are particularly dark and light pollution is suppressed in cooperation with the International Dark Sky Association. Complete with loads of classes, events, astronomers and 24/7/365 access, this is an excellent place to see and photograph the night sky.
Throughout the summer, the richest part of the Milky Way spreads itself across the sky, where the constellations of the Scorpion and Sagittarius join across the horizon from the perspective of the Headlands. In late summer through early winter, meteor showers appear – starting with the Perseids, followed by the Draconids and Orionids, then the Leonids in November, and the Geminids in early December, and at end of year, the Ursid Meteor Shower, originating near Ursa Major and Minor, two constellations that are always overhead in our region. The Aurora Borealis is also viewable from the Headlands – most commonly during the periods around the equinoxes, but the Aurora may appear at any time!
In the same area are other excellent spots to explore both the night sky and the natural beauty of the region – check out Sleeping Bear Dunes, Brockway Mountain, Pictured Rocks National Lakeshore, the Porcupine Mountains, Tahquamenon Falls, and Isle Royale National Park.
https://www.midarkskypark.org/
Cherry Springs State Park
Named after the black cherry trees, this park in Potter County, Pennsylvania, is popular amongst amateur and professional astronomers, photographers as well as stargazers. It sits at an elevation of 2300ft (701m) existing between plateaus in the Allegheny Mountains and is among the darkest places east of the Mississippi and considered a "place of exceptional nighttime beauty" by the International Dark-Sky Association. Night viewing is available 24 hours.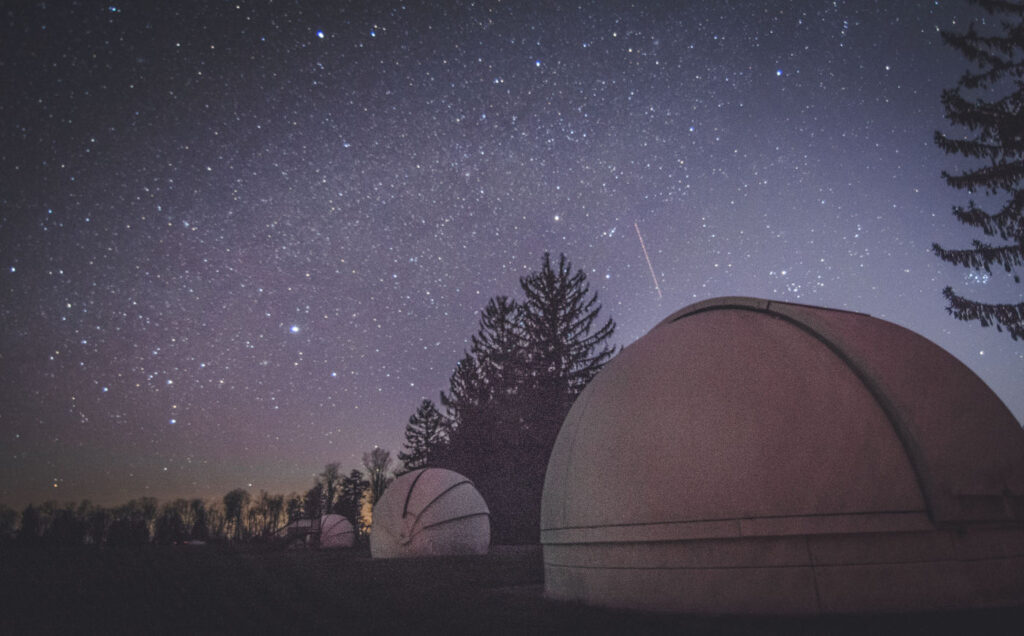 Cherry Springs State Park was named a dark sky park in 2007 by the International Dark-Sky Association and the adjacent and now-defunct local airport was incorporated into the park in order to expand its stargazing area. The park hosts two star parties each year, there are regular stargazing and educational programs, and the state park on which the Dark Sky Park exists has a diversity of interesting flora and fauna. Cherry Springs offers a great view of the nucleus of the Milky Way Galaxy, the park has an astronomy field with a 360 degree view of the night sky, and all lighting in the park is shielded, red light to reduce light pollution.
Check out the Night Sky Viewing area where a shield exists to prevent passing cars from disrupting a view or image. The park also has Wi-Fi and power outlets for guests taking advantage of their Overnight Astronomy Observation Field – which does require registration. Tripod and telescope pads are also available on the site.
https://www.dcnr.pa.gov/StateParks/FindAPark/CherrySpringsStatePark/Pages/default.aspx
Cosmic Campground, Gila Wilderness
Cosmic Campground International Dark Sky Sanctuary is the first International Dark Sky Sanctuary located on National Forest System lands and also in North America. There are only three precious International Dark Sky Sanctuaries in the world, which makes Cosmic Campground a truly special place. Visit this super-remote, 3.5-acre site in the Gila National Forest of western New Mexico and you'll find exceptional night skies (the nearest significant source of electric light is more than 40 miles away) and observation pads are available for setting-up telescopes and tripods.
The Cosmic Campground offers a 360-degree, unobstructed view of the night sky, and often hosts "star parties" in cooperation with the partner group "Friends of the Cosmic Campground." This site is located in an area with little development and light pollution.
The Gila National Forest is a protected national forest with natural features such as rugged mountains, deep canyons, mesas and semi-desert, it even features several hot springs. Due to the harsh terrain, the region is largely unspoiled.
Also in NM, Chaco Culture National Historical Park. Chaco is a "natural darkness zone" with no permanent outdoor lighting. It has its own observatory, offering deep-space viewing and a digital imaging system that lets visitors see nebulas, supernovas, and distant galaxies. There are also guided stargazing tours with history on the local culture's deification of the heavens.
https://www.fs.usda.gov/recarea/gila/recarea/?recid=82479
Denali National Park
Denali National Park is located in Interior Alaska and includes Denali (formerly known as Mount McKinley), the highest peak in North America. The park is vast – over 6 million acres – and the weather is daunting if one would like to catch a truly dark night sky. Because of the high northern latitude, there is no darkness during the summer months, so astrophotography is not viable in June and July as well as most of August and May. With glaciers, forests and tundra, Denali has a multitude of dramatic landscapes and, being remarkably remote, almost no light pollution. The northern lights can be profound at this location. In the fall, winter and much of the spring, long hours of darkness allow for some outstanding views as opportunities for photographs at the national park.
This will be an excellent option for someone willing to make the trip and trek, especially if you are looking to include the northern lights in your images. You also must be prepared for some wicked weather as the summer months are not an option for astrophotographers. If you are willing and want to, it will be a fantastic place to take those photos of the night sky.
https://www.nps.gov/dena/index.htm
Mauna Kea, Hawaii
Mauna Kea is a dormant volcano in Hawaii and the highest peak in Hawaii.
The elevation and climate make Mauna Kea a prime spot for astronomical observation and astrophotography.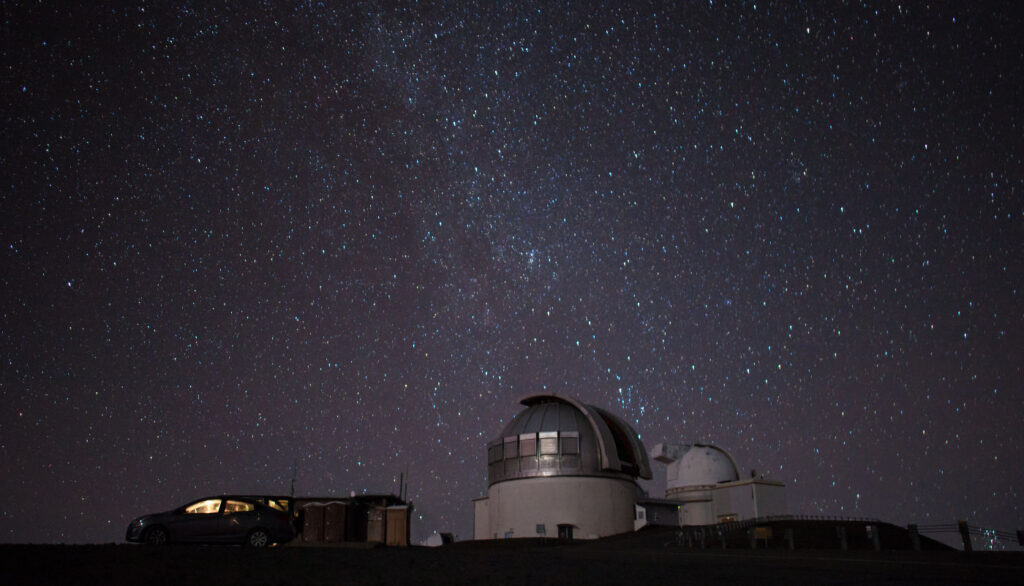 Very dark skies above Mauna Kea are thanks to the distance from city lights and enhanced by legislation that seeks to minimize light pollution from the area. The darkness and atmospheric conditions make it an especially good vantage for spotting and shooting faint objects in the heavens. These contributors have made Mauna Kea an outstanding location for stargazing, astronomy and the area provides some interesting inspiration for foregrounds in astrophotography.
http://www.ifa.hawaii.edu/info/vis/visiting-mauna-kea.html
Big Bend
Big Bend National Park includes large sections of the Chihuahuan Desert, with an excellent selection of plants and animals as well as geological features, fossils and volcanic dikes. The park includes the banks of the Rio Grande and Rio Bravo and borders Mexico
Big Bend National has some of the darkest skies in the country, existing in a remote part of western Texas. Including desert landscapes, mountains, the river, and corresponding valleys, with its size and remoteness, this area is considered a gold-tier dark sky by the International Dark-Sky Association.
The sky is dedicated to keeping the night sky clear and dark and has taken measures to limit light pollution in the park – prohibiting campfires and converting park lighting to be conducive to the nighttime observation of the stars.
For stargazing and astrophotography opportunities, check out Hot Springs Canyon Trail, the Rio Grande Village Nature Trail is good for accessibility, the and McDonald Observatory, are all good places to start your astrophotography journey in Big Bend. The park also hosts events around stargazing and astronomical events.
https://www.nps.gov/bibe/index.htm
Crater Lake National Park, Oregon
Crater Lake is a lake filling the caldera of Mount Mazama and is known for its deep blue color and water clarity. Nearly 2,000 feet deep, it is among the deepest in the world and features some interesting curiosities such as "The Old Man of the Lake, a log that has been bobbing vertically in the lake for more than 100 years as well as two small islands, Wizard Island and Phantom Ship.
Crater Lake National Park is especially suited for astrophotography thanks to the lack of light pollution and the wide open sky and the very aesthetic scenery – North Junction is particularly nice – the Milky Way stretches from one edge of the horizon to the other, and often can be captured in such a way to be reflected off of off the still lake.
https://www.nps.gov/crla/index.htm
Big Pine Key/Scout Key, Florida
Big Pine Key is 100 miles from Miami and has lighting restrictions in place for the benefit of nesting sea turtles. In the Winter, it is unique in that it is one of the very few places where the Southern Cross constellation can be seen in the United States. The SCAS (Southern Cross Astronomical Society) sponsors a Winter Star Party in February on Scout Key, where local astronomers view and take photographs of the constellation. The area is also a key location for outstanding views of the planets Jupiter, Venus and Mars, Southern Hemisphere specials such as Carina and Vela, and objects like Omega Centauri and Eta Carinae many more. Thousands of amateur astronomers and astrophotographers consider this area one of the best places on the planet to gaze at the stars and planets. The atmospheric conditions are also suited for astrophotography – having low atmospheric turbulence, stars shine consistently and steadily from this viewing point. Combine this with the pleasant climate of Florida, and it's clear why these keys are desirable!
On the keys, there are occasional lectures on astronomy technology featuring some astronauts and NASA employees as speakers. Education is available for hobbyist astronomers, especially during the Winter Star Party.
https://www.bigpinekey.com/island-information/
Acadia National Park, Maine
Acadia National Park is in Maine and the only National Park in the Northeast US. Being a good distance from city lights, and air pollution, the night sky over Acadia is dark and crisp. It serves as an excellent location for night photographers. The park takes efforts to keep light pollution low such as down-facing campground lighting. The unique rock formations and the Atlantic shoreline are special treats.
Acadia also features the "Acadia Night Sky Festival", a celebration of the stars and the unique, special view of them from Acadia. The Night Sky Festival includes evening telescope tours of the constellations and planets, night kayaking tours and more. Acadia is considered by many astrophotographers to be the prime Atlantic location to practice their craft. Check out Cadillac Mountain and Sand Beach for nice foreground.
https://www.nps.gov/acad/index.htm
Southeastern Utah
This region of Utah is rich in National Parks and popular for astrophotographers and general landscape photographers. The dry air means the sky is often clear and there are stunning geological features that can populate the foreground of your next star-shot. There are many popular locations in Utah, all spread across the Southern and Eastern border of the state, so I've included them as one entry.
Natural Bridges National Monument, Utah
With three unique and marvellous natural bridges, this 7,500-acre area in southern Utah was designated as an International Dark Sky Park in 2008. At a high elevation, 40 miles from the nearest town, surrounded by plateaus, the park is one of the best locales for observing the night sky in the United States. Educational programs are available during the summer months on topics of stargazing and astronomy.
https://www.nps.gov/nabr/index.htm
Arches National Park, Utah
With unique rock formations, landscapes, textures and coloration, and boasting over 2,000 natural stone arches, hundreds of soaring pinnacles, and giant balanced rocks, this red-rock wonderland will amaze you with its formations, and outstanding views of the night sky.
https://www.nps.gov/arch/index.htm
Bryce Canyon National Park, Utah
With the richest collection of Hoodoos (irregular columns of rock) and situated along a high plateau, the park's high elevations feature fantastic dark skies and beautiful geological wonders.
https://www.nps.gov/brca/index.htm
Canyonlands National Park, Utah
With innumerable canyons and unique features carved into the desert by the rivers, this is yet another interesting Utah location with dark skies and unique vistas.
https://www.nps.gov/cany/index.htm
Capitol Reef National Park, Torrey, Utah
Torrey is an IDA "dark Sky community", using practices intended to reduce light pollution, and the nearby Capitol Reef National Park, it is an excellent spot to explore astrophotography given its dark skies, cliffs, canyons, domes and more.